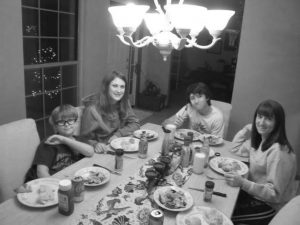 Holidays – a time for joy, fun, and celebration – are a challenging time of year for any family. Everyone talks grandly about family, particularly during the holidays. Beautiful holiday dinners, hours spent decorating together, shopping for gifts, and laughing jubilantly as they play family games with extended family. Yeah, we all know the truth. Many family traditions play out more like a scene from Christmas Vacation fraught with dysfunction of all types. Fights between relatives, catty exchanges among the women, and the men constantly working to one-up each other's manliness whether that's through material success or who can belch the loudest, if that is their calling.
For divorced people with children, the holidays serve up the added challenges of dividing time with the children between two parents, grandparents, and other extended family members and facing the devastation of missing out on precious memories with your child. As parents, isn't it our duty to create family traditions? Yet that is very difficult to do when you've agreed to alternate holidays. At best, your tradition is either only executed in alternating years, or you carry it out on a different day from year to year. While this may work fine for you and your child or children, it is hard to pull off when considering the broader family. Grandma and Grandpa may always host Thanksgiving at their house. A particular holiday tradition may only take place on Christmas Eve each year. We all hope to establish lasting traditions with our children that we can enjoy together for decades and that they can take forward with them throughout their lives.
It gets exponentially more complicated when there are multiple divorces, remarriages, stepchildren, and even pets that have to be worked into the equation. So my best advice is to not get too caught up in your own feelings. This will just drive you crazy, and honestly, it isn't just about YOU! Of course, this is the case even if you're not divorced.
In our family, not only were Bob and I divorced. Bob's parents were divorced – and both remarried. Bob eventually got remarried, and his new wife's mom got remarried. Bob's sister was married, but her husband's family lived two hours away. My parents were still married but lived in Texas, 1,500 miles away. In fact, none of my relatives lived in town. This actually ended up being a bit of a Godsend. Oh, it was tough not having them close by, and I hated that we couldn't share more of our lives with them. But had they, too, been local, it would have just been one more difficult choice to have to make when it came to dividing up our time.
When you are divorced with kids, the holidays are simply a minefield of anxiety. How do you get it right? How do you build traditions when you constantly have to consider the forces outside of your home? How do you balance what your child wants with what you want to experience as a parent? I can only speak for myself. But I didn't work on getting pregnant for two years only to miss all the significant memories in my son's life. My dreams of building that vast photo album of pictures with Santa and Christmas mornings didn't end with my divorce. I know there are people who let these things go. But honestly, I just don't relate to this type of parenting existence. I couldn't let Bob's prophecy of "You're going to miss half of his life" come to fruition.
So not unlike the tangled web we had to weave to establish our living arrangements, we once again had to exhibit selflessness, flexibility, and compassion to provide the best holiday experiences to our boy while still getting to enjoy being his parents.
One other thing I would caution parents against in the case of holidays is giving the kids TOO MUCH control in deciding how their holiday time is spent. It isn't all about them, either! Certainly strive to make it fair and not too frantic to enjoy. But seriously, burdening a child with the decision of who to spend time with and how much and who to pick between is more unfair. Make it your burden to figure out. Not theirs. Be the adults. Be fair to yourself, too. Being a martyr doesn't serve your interest or your children's. After all, they want to spend time with both of you.
You can read more about our holiday co-parenting and blended family efforts in my book, Happily Divorced: Our Journey Through Divorce and Co-Parenting by the Golden Rule available now on Amazon.